LFP AWARDS
Cristiano Ronaldo named Most Valuable Player of last season
The Portuguese was one of four Real Madrid players to pick up a prize at the LFP awards ceremony. Messi was named Best Player and Best Forward.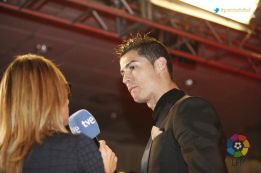 Cristiano Ronaldo was named the Most Valuable Player of last season at the annual LFP awards ceremony, while Diego Simeone, who did not even make the long-list of coaches for next month's FIFA Ballon d'Or awards, was named the Best Coach.
Leo Messi, who missed the ceremony because he is recovering from a hamstring injury in his native Argentina, had the consolation of being named Best Forward and Best Player.
Speaking via a video link, the Barcelona forward said: "If it wasn't for my teammates, I wouldn't have been able to score so many goals."
When Messi's name was called out, the audience responded with a mixture of boos and cheers, which did not go unnoticed by Barcelona president Sandro Rosell, picking up the award on the Argentinian's behalf.
"Thanks for the applause, we do not receive cheers here as easily as we do in Barcelona," he said.
Atlético stopper Thibaut Courtois was named Best Goalkeeper.
"I'm happy, this trophy is an award for all the hard work I've put in," said the Belgian.
"I'd like to say thanks to my coach [Simeone] and the president [Enrique Cerezo]. I feel very happy to be in Spain and I hope we have a good season."
Simeone said: "I value this award very highly. I thank my players for the effort and commitment they have shown in every game and I dedicate it to my children, who are in Argentina."
It was a successful night on the whole for Real Madrid players, with Sergio Ramos, Iker Casillas and Asier Illarramendi all picking up prizes, in addition to Cristiano.
Ramos was named Best Defender, and received his award from the Olympic medallist Mireia Belmonte.
He said: "It's an honour, a pleasure and a privilege to be here. I have to thank my teammates, who have made winning this prize possible. I also want to dedicate it to all Real Madrid fans, and to my family."
Casillas won the Fair Play award, while Illarramendi was chosen as Best Midfielder and Breakthrough player for his performances last season with Real Sociedad.
Madrid president Florentino Pérez picked up Casillas' prize for fair play.
"As you can see, I'm not Iker Casillas. It's a real shame he can't be here. Of course, he's been a worthy winner of many awards, but he has won this award precisely because of his exemplary behaviour, and he deserves it."
Illarramendi, receiving his award from Málaga boss Bernd Schuster, added: "I want to thank my teammates from last year and my current club, my family and my girlfriend."
Andrés Iniesta was presented with the award for Best Attacking Midfielder by Fernando Hierro, and gave a special mention to his former coach Tito Vilanova, who was diagnosed with cancer last year, and former teammate Eric Abidal, who returned to playing last April after undergoing a successful liver transplant.
"I'm grateful to everyone who has appreciated my work," said Iniesta.
"It was a difficult season due to personal problems, because of Abidal and Tito. This prize is worth so much more because of them."
Education and Culture minister Ignacio Wert was booed by a section of the audience, while Simeone, Iniesta, Cristiano and Ramos all received rapturous applause.
| | |
| --- | --- |
| Most Valuable Player | Cristiano Ronaldo |
| Best Player Liga BBVA | Leo Messi |
| Best Goalkeeper Liga BBVA | Thibaut Courtois |
| Best Defender Liga BBVA | Sergio Ramos |
| Best Midfielder Liga BBVA | Asier Illarramendi |
| Best Attacking Midfielder Liga BBVA | Andrés Iniesta |
| Best Forward Liga BBVA | Leo Messi |
| Breakthrough Player Liga BBVA | Asier Illarramendi |
| Best Coach Liga BBVA | Diego Simeone |
| Fair Play Award (player) Liga BBVA | Iker Casillas |
| Fair Play Award (club) Liga BBVA | Athletic Bilbao |
| Best Player Liga Adelante | Gerard Deulofeu |
| Best Goalkeeper Liga Adelante | Esteban |
| Best Defemder Liga Adelante | Edu Albácar |
| Best Midfielder Liga Adelante | Bruno Soriano |
| Best Attacking Midfielder Liga Adelante | Vitolo |
| Best Forward Liga Adelante | Charles |
| Breakthrough Player Liga Adelante | Chuli |
| Best Coach Liga Adelante | Fran Escribá |
| Fair Play Award (player) Liga Adelante | Bruno Soriano |
| Fair Play Award (club) Liga Adelante | Villarreal |