ATLÉTICO | CAMINERO
Caminero faces four years jail for laundering drug money
Prosecutors are also seeking a four million euro fine from the former Atlético player who is currently their Sporting Director.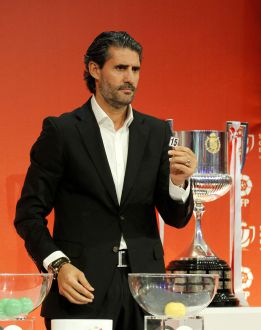 An article in Spanish newspaper El Mundo, published today, reveals that former Atlético player and the club's current Sporting Director, José Luis Pérez Caminero, is facing accusations of laundering drug money, with the prosecutor seeking a prison sentence of four years and a fine of four million euros. Caminero played for Atlético from 1993 to 1998 and was a key member of the double winning squad of 1995-96. He also played 21 times for Spain, scoring eight goals.
Caminero was arrested by the Guardia Civil (the Spanish military status police force) in the centre of Madrid in June 2008. A search of his Mercedes revealed 58,500 euros in 500 euros notes. The Atlético Director was detained by the officers, before being charged and released.
According to Prosecutors, Caminero's job for the drug dealers was to change small notes into larger ones (100, 200 or 500 euros). The money laundering operation was allegedly based in a Madrid jewellery shop and used by both a Mexican and a Colombian drug organisation.