REAL MADRID | CRISTIANO RONALDO
CR7: 19 league hat-tricks and 20 goals from free-kicks
The Portuguese striker is only three hat-tricks behind Zarra and Di Stefano and is two ahead of Messi.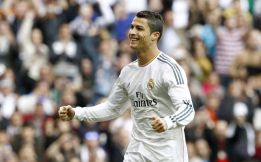 Cristiano's statistics only get more devastating. Almost every game he plays he smashes some record. His hat-trick against Real Sociedad (a 5-1 win for Real Madrid) is his 19th in the Spanish league. Cristiano is now level with Valencia legend Mundo in the all time League hat-trick list and just two behind Zarra and Di Stefano. The 19 hat-tricks of Ronaldo are ahead if Messi's 18, César's 16, Lángara's 13 and Puskas' 12.
Moreover, despite his effectiveness with free-kicks having been the subject of discussion at one time, Ronaldo has now scored 20 goals for Real Madrid from direct free-kicks, one more than free-kick specialist Ronaldinho scored with Barcelona. Of those 20 he has scored 14 in the League. In the last 20 years only Ronaldinho and Roberto Carlos have better statistics on this aspect of play.
In total Cristiano has scored 225 goals in 216 games for Real Madrid and has now scored 62 goals in 2013. Impressive stats, impressive player.