SPAIN | DIEGO COSTA
Diego Costa signs a letter saying he will play for Spain
The Spanish Federation will send the letter, signed in the presence of a notary, to the CBF.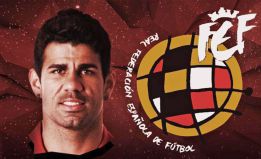 Diego Costa will play for Spain. He has signed, in the presence of a notary, a letter to this effect that will be sent to the Brazilian Federation (CBF) this afternoon. In the document the Atlético striker rejects the call up to Brazil's friendlies in November and makes clear his decision to play for Spain, both in friendlies and official matches, always provided that Del Bosque, the Spain coach, calls him up.
The success of the management of the situation from a Spanish point of view lies with the Spanish Federation's General Secretary, Jorge Pérez, who has studied the case with the Federation's lawyers. Diego Costa for his part has stayed true to his word, given to Del Bosque on 3 October.
The CBF, however, will likely go on the attack again once they received the letter, with their president, José María Marín, of Spanish descent, having already said they will take the case to FIFA. The Spanish authorities though, having spoken to FIFA and gone through the regulations are certain the rules are on their side - that Diego Costa is now a Spanish player and there is nothing Brazil can do about it.