LIGA BBVA | BARCELONA
Piqué misses training and is doubtful for the Clásico
The centre-back ended Tuesday's game in Milan with muscular problems and underwent tests this evening.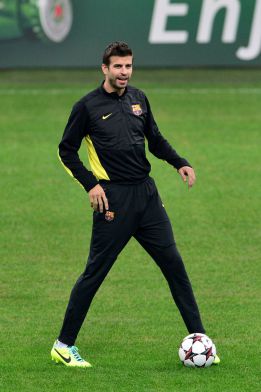 Gerard Piqué is battling against the clock to make Saturday's visit from Real Madrid. The defender complained of pains to his left leg following Tuesday's Champions League meeting at AC Milan and was examined this afternoon in Barcelona. Club medical staff believe that the player is carrying a sprain to his left hamstring but should be able to return to training on Friday. That only leaves Piqué one day to prepare for the Clásico and he is unlikely to be risked if he is not 100 per cent.
There was other worrying news for the coach who learned that Jonathan Dos Santos has suffered damage to the anterior cruciate ligament in his right knee. He will undergo an arthroscopy operation at some point over the next few days to determine how serious the injury is and how long he will be out of action.