AS INTERVIEWS SANTI CAZORLA
Santi Cazorla: "I couldn't believe it when Madrid sold Özil to us"
The Arsenal and Spain midfielder is recovering from a nasty ankle injury which has kept him out for a month, but was able to take time to speak to AS.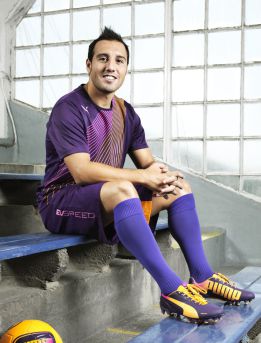 How is your ankle injury?
I'm not far away from being free from pain and discomfort. It was a blow when I learned I'd have to miss a month of football, but that's when you need to be patient. However, I want to recover before the scheduled time.
But it's never a good idea to hurry back after an injury..
Of course. Experience is key and you have to pay attention to what the doctors tell you and what your body is telling you.
Arsenal have made a very strong start to the season..
We are delighted with our start. We are right at the top of the Premier League and we've begun the Champions League with two victories.
What did you think when you heard Arsenal were about to sign Özil?
I couldn't believe it. But not just because he was coming to play for us.
What else?
That Madrid could have let him go.
Why?
He's a brilliant signing for Arsenal, an exquisite player who has come here with a humble attitude and with the ambition of doing great things at the club.
It seems obvious to say that everyone could learn something from him.
Without a doubt, he's a unique player, he's got the touch of a genius about him.
Florentino claimed that he couldn't handle the pressure at Madrid. Do you agree?
I don't know, although watching Mesut play for Madrid in the last few years, I don't think that's right. Özil had some outstanding games in a Madrid shirt. The Madrid president has done great things for the club, signing spectacular players. I know that the fans were angry over the decision to sell, but without knowing all the details, he would have had his reasons.
What do Arsenal aspire to this season?
We will fight to win trophies, you can be sure of that.
What do you think about what has happened to Casillas?
Iker is one of the best goalkeepers in the world, he has demonstrated it and will continue to do so in the future.
Have you been surprised by Diego López's form?
Not at all. I played with him at Villarreal and saw how good he was then, just like I've seen Casillas with the national team. Diego is an example in many aspects.
Is it best to keep quiet about the situation?
No, but you can only really give your opinion on it if you are inside the dressing room and I'm far away from the Madrid dressing room.
Iker, López, Valdés, Reina and De Gea. Spain don't half have a few decent keepers, do they?
I think many countries would like to have such an impressive array of goalkeepers. And as well as those you mentioned, there are others who are capable of playing for Spain. I'm so proud of the high level of quality of footballers in our country.
What do you think when people dare to say that Xavi's days are numbered?
I would love to reach his age and be as fresh as he is. He is one of the best players around, he's a specialist in his position and no-one comes close to him. I can't stand it when people say things like that.
What do you think of Tata Martino?
He has a complicated task. It can't be easy coaching this Barcelona side. But his side are up there, top of the league, doing well in the Champions League, playing good football and managing the players well.
Are you in favour of his rotation policy?
Every player would all like to play every minute of every game, but we have to understand that it's a very long season and everyone will get their chance.