REAL MADRID | FLORENTINO
Bernabéu renovation: "Fully covered, with air conditioning"
Florentino spoke to the Real Madrid members as he prepares for the General Assembly on Sunday.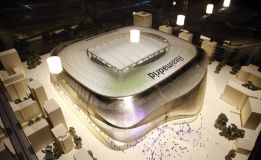 Florentino Pérez is on a whirlwind mission to speak to the members of Real Madrid about his plans for the future of the club before the General Assembly on Sunday. Yesterday he gave a talk and spoke about the Bernabéu, whose latest renovation is taking longer than expected to pass the planning stage. Pérez had this to say: "Our agreement with the Madrid Council was subject to an appeal and a judge put in place a temporary stay on proceedings, but that's now been lifted by a higher court so we can now go back to the architects for revised plans. It's going to be a spectacular stadium, fully covered and air conditioned". According to the President the works will cost 300-400 million euros and the new stadium will bring in 80 million a year. The renovation will be financed by a loan, but the promise is that the season ticket prices "will not go up".
Pérez also broached the subject of a possible conversion of the club from a non –commercial registered association (where the owners are the members or 'socios') to a Public Limited Liability Sports Company (Sociedad Anónima Deportiva), S.A.D.), which would have shares just like a normal company.
"On my last trip to the US I was offered the opportunity of floating 10% of the club on the stock exchange but I rejected it. The other clubs should be grateful that we aren't a limited liability company, because we'd have a lot more money and there'd be an even bigger gap between us and them". He also said that if the Club was forced to make the switch it wouldn't be a big deal: "Each 'socio' will get one share". The move to a S.A.D. would open the door to there being one controlling owner of Real Madrid, just as happened to Atlético Madrid when it converted (now held by Miguel Ángel Gil Marín, son of Jesús Gil).
Pérez also confirmed that the mega-construction planned for the Middle East, the Real Madrid Island planned to open in 2015 in the United Arab Emirates, won't go ahead. "We had a deal with one of the emirates, but they were planning to finance it using certain investments and they turned out badly for them. Now the promoters are keen for us to do it elsewhere, in Abu Dhabi, next to Ferrari World".