2014 WORLD CUP | SPAIN
Isco injury forces Del Bosque to reshuffle the pack
The Real Madrid midfielder has abandoned the Spain camp in Helsinki after complaining of twinges to his ankle.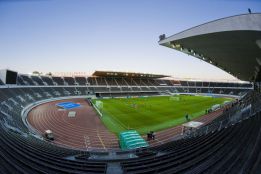 Isco was forced to quit Spain's training session at the Olympic stadium in Helsinki on the eve of the team's 2014 World Cup qualifier with Finland. The Real Madrid midfielder complained of sharp pains to his ankle and was unable to complete the session.
Isco was not expected to feature in the starting line-up for Friday's match and it is not known whether he has been definitely ruled out for the game.
During Thursday's preparations, Del Bosque gave no clues as to who will form his starting line-up against Finland and continually switched players from side to side during a practice match at the tail end of the session. The only significant tactical move was the presence of Koke in the right-back position – the Atlético player was tried out as an alternative to Álvaro Arbeloa.