TRANSFERS | REAL MADRID | MORATA
Álvaro Morata turns down move from Real Madrid to Sevilla
The Andalusian club offered 10 million euros for the player, who chose not to leave the Spanish capital.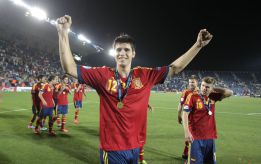 Sevilla made an offer to Real Madrid for Álvaro Morata, but the player has turned down the move to the Andalusian club, who are seeking a number 9 to replace Negredo, who they have sold to Manchester City. The offer was around 10 million euros, and Madrid would have had a repurchase option. The player, however, decided to stay put and try to convince Ancelotti that he is worth a place in his team.
The deal would have seen the player, who has come up through the ranks at Madrid, sign for five seasons. The repurchase option was to allow Madrid to buy the player back in the first two seasons after the deal, for 11.5 million in the first and 13 in the second.
Sevilla's first choice of striker is Kevin Gameiro, currently with PSG. The French club, aware that Sevilla have recently banked cash, have put a high price tag on him. Hence Sevilla's desire to pick up the young Real Madrid player. Real were happy with the transfer and keen for the Morata to pick up experience, with the option to repurchase him should they so desire. The player, however, wants to triumph in the Bernabéu.