REAL MADRID | KAKÁ
Kaká back in Madrid, but keeping silent about his future
The Brazilian arrived today in Barajas airport, but refused to answer questions about the coming season.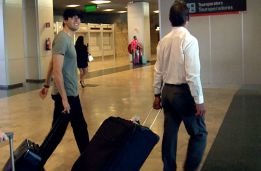 Kaká arrived in Madrid's Barajas airport at 12:45 today, with Real Madrid's first training session of the pre-season taking place tomorrow. The Brazilian was all smiles, but refused to answer questions about his situation at Real Madrid, where it now looks more likely that he will continue next season under Ancelotti.
As this newspaper published today the Italian has faith in Kaká and called him to tell him so. The result of the conversation is that they agreed that whether the Brazilian would stay at Madrid or not would depend on his performances in training.
Kaká has spent his holidays in Sao Paulo and hasn't hidden the fact that he wants to continue playing for Real Madrid. Ancelotti for his part had already told the club's directors that he was keen to work with the Brazilian again. The only thing left was for the two men to speak, which happened this week.