LIGA BBVA | REAL MADRID
Arsenal believed to be close to Higuaín deal
The Argentinean striker would smash the club transfer record and become one of the highest earners in the first team squad.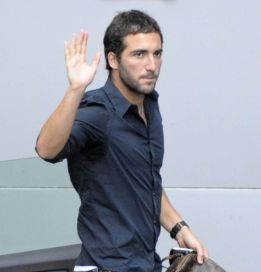 The English press affirm that Gonzalo Higuaín will be formally unveiled by Arsenal in the forthcoming days. According to the Daily Mail, the Gunners have tabled a 26 million euro bid for the Argentina international which would convert El Pipa into Arsenal's most expensive transfer in club history (the record is currently held by Sylvian Wiltord who joined for 13 million pounds in August 2000).
Higuaín's move to the Emirates would also see him become the highest paid player in the squad with an annual salary of close to seven million euros. Arsène Wenger considers the capture of the Real Madrid striker to be a priority as Olivier Giroud, brought in last season as Robin van Persie's successor, has failed to convince.
The Daily Mirror reports that Arsenal have overtaken Juventus in the race to land the player after Madrid rejected the Italians' offer of 21 million euros.