TRANSFERS | REAL MADRID | HIGUAÍN
Higuaín wants to sign for Juventus next week
Bronzetti, the intermediary in charge of the talks, says he has a "50-60 or even 70% chance of going" to the Italian club.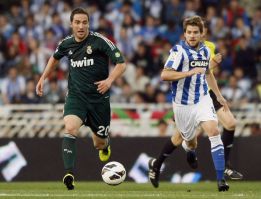 Higuaín is more likely to be at Juventus than to continue at Madrid next season, according to Ernesto Bronzetti, the man running the talks. "He has a 50 or 60% chance, or maybe even 70% chance of signing for Juve. There's no doubt he'll leave because he has expressly asked to go".
Bronzetti talked about the time scale for the move: "Marotta (Sporting Director of Juventus), Paratici (General Manager) and Conte (coach) came to Madrid and we talked, but they are still talking; we'll see how the situation turns out at the start of June".
Higuaín is currently waiting for the two clubs to reach an agreement. Madrid are demanding 25 million and the Italians are looking to reduce that by throwing Lichtsteiner into the deal. As to a potential replacement Bronzetti said, "Madrid always look to the biggest stars..."