REAL MADRID
Isco and Carvajal: Florentino's plan to sign more Spaniards
Isco is a transfer target for many of the biggest clubs in Europe but Madrid retain a buy-back option with Carvajal, which they will trigger in the summer, for 6.5 million euros.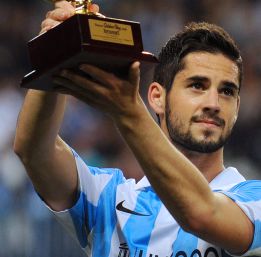 Florentino Pérez has still some work to do in order to "make Madrid more Spanish", as he promised to do when he became president of the club for the second time in 2009.
In his first 12 months he shipped off six Dutch players and in his first summer back brought in Spaniards Xabi Alonso, Álvaro Arbeloa, Raúl Albiol and Esteban Granero, followed by Sergio Canales and Pedro León in 2010. But since then, the only Spanish players he has brought to the Bernabéu have been Dieg López and José Callejón, while he has signed some less than successful foreigners, including Hamit Altintop, Nuri Sahin, Emanuel Adebayor, Luka Modric and Michael Essien.
But now the president is preparing another swoop that will give Madrid a more native edge - signing Isco and Daniel Carvajal. And he is more likely to see these transfers through if, as expected, José Mourinho leaves the club in the summer.
The 20-year-old Málaga midfielder Isco won the Golden Boy award for the best young player in Europe in 2012 and is the object of desire for the biggest clubs in the continent. Right-back Carvajal, who left Madrid Castilla last summer to join Bayer Leverkusen, could return to Madrid, who retain a buy-back clause in his contract of 6.5 million euros, which will be triggered in July.