COPA DEL REY | MADRID | RAMOS
Ramos out for the first leg of the Copa del Rey semi-final
The Madrid defender was banned for five games in total: four for insulting the referee and one for two yellow cards.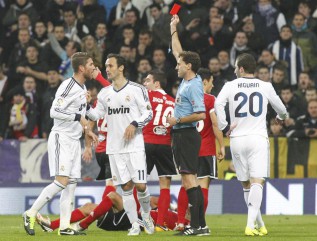 Real Madrid defender Sergio Ramos is out suspended for the first leg of the Copa del Rey semi-final, against either Barcelona or Málaga. The player picked up a one game ban in the cup game against Celta for the two yellow cards he received. This suspension must be served in the same competition, allowing the player to take the pitch against Getafe in the next league match (Sunday mid-day).
Ramos also picked up a four match ban for insulting the referee in the Celta match, which he has now served. This punishment was applicable across all competitions, hence the player missed both league and cup games while serving the punishment. However the one game ban for the two yellow cards applies subsequent to the suspension for insulting an official, and is applicable only to the cup.