BARCELONA | TITO VILANOVA
Tito Vilanova to travel to New York this week to see specialist
The Barcelona coach wants a second opinion on his illness and will not be at the Camp Nou for the visit of Córdoba on Thursday in the Copa del Rey.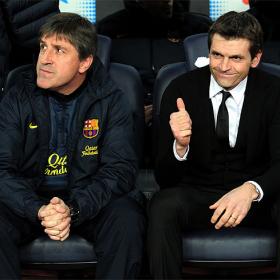 Tito Vilanova is to make an urgent trip to New York in order to get a second opinion on his illness.
The Barcelona coach underwent an operation on December 20 to remove a tumour from the parotid gland after he suffered a relapse of cancer, after first being diagnosed with the disease in November 2011.
He will attend the Memorial Sloan-Kettering Cancer Centre in New York to consult specialists.
The Barça coach took charge of his team's last league game, the 4-0 win over Espanyol last Sunday, but warned that he had not yet made a full recovery, and would not be able to coach his team for every game.
"Some days you will see me at training, other days I won't be able to attend", he said.
According to Catalan newspaper 'Sport', the Memorial Sloan-Kettering is currently headed up by the Catalan doctor José Baselga, who is also the scientific coordinator of the Institut d'Oncologia del Vall d'Hebrón, where Vilanova was operated on in December. The Barça coach will be put in the hands of the doctor Timothy A. Chan during his visit.
Vilanova will not be able to attend Barcelona's Copa del Rey second leg game against Córdoba on Thursday as a result of the trip, meaning that his assistant coach Jordi Roura will be in charge of the team.
Roura coached Barça's final league game of 2012, a 3-1 win away to Real Valladolid.