LIGA BBVA | REAL MADRID
The King and I... by Iker Casillas
The Real Madrid captain was lost for words when the Spanish monarch asked him if they could pose for a photograph together.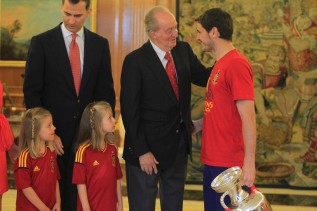 Real Madrid and Spain goalkeeper Iker Casillas said that Spanish King Juan Carlos I has always shown him great affection whenever the two have coincided at official events and revealed that the monarch even asked if he could take a photograph of them together with his mobile phone during a prize ceremony in 2011.
"I will never forget one particular anecdote regarding his majesty which took place, if memory serves, at the national sports prize gala at the royal palace in El Pardo. Members of Spain's World Cup-winning squad received an award and Vicente Del Bosque and I were elected to receive it on behalf of the team.
"When the ceremony had ended, the King came over to me. We chatted for a while and I asked him if he could sign an autograph and take a photograph of him as a present for my cousin David, who is a big fan of his. I couldn't believe it when he pulled out his mobile phone and suggested a photo of us together.
"Imagine that! The Spanish King wants a photo of me together with him! I just remember thinking that I didn't know what to say; I was completely lost for words. Never in my life could I have imagined that the King of Spain would want his photo taken with me. That was a gesture which demonstrates what a humble person he is - someone for whom I will always have the greatest admiration and respect", the goalkeeper told new agency, Efe.