LIGA BBVA | BARCELONA | MESSI TRANSFER RUMOURS
Barça and Messi reject jumbo offer from a Russian club
The unnamed outfit were apparently willing to pay the Argentinean's buy-out clause of 250 million euros.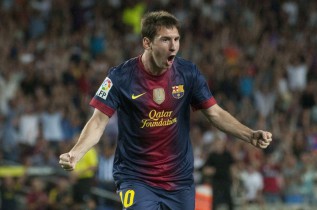 Not even Russian football's mammoth amounts of cash were enough to prise Leo Messi from Barcelona. According to 'Mundo Deportivo' the Argentinean striker may have received an elephantine offer from an unspecified Russian club last summer. According to the rumours Messi would have seen his salary leap to 30 million euros a year, for the three years of the proposed contract, at least 10 million more than the current best paid player on the planet, Samuel Eto'o, who plays at Anzhi, also a Russian club. However the record breaking player didn't even consider the deal.
And the striker's club Barcelona also had no truck with the offer. Not even the fact that the mystery club were looking to pay Messi's 250 million euro buy-out clause was enough to make the Catalan giants consider selling their star asset, proving once again how important the player is to their plans. The temptation of so much loot being dangled in front of Messi at no point made his current club nervous, although it did appear to have speeded up his contract renewal at Barcelona. He recently re-signed, extending his deal to 2018 and seeing a considerable increase in his salary, although the exact amount has not been revealed. According to sources, the big bucks being offered to Messi from other clubs were not used at any point during the contract negotiations between Barcelona and the player's agent, his father Jorge Messi.