REAL MADRID | MOURINHO
Mourinho on dropping Casillas: "My conscience is clear"
José Mourinho again defended his decision to drop the Real Madrid captain for Saturday's game against Málaga, which 'Los Blancos' lost 2-3.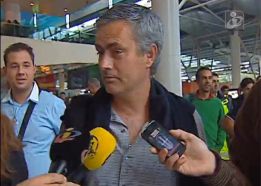 José Mourinho briefly spoke to the Portuguese press on arriving at Lisbon airport on Sunday afternoon, and again defended his decision to drop Real Madrid captain Iker Casillas for the 2-3 defeat against Málaga on Saturday.
"I have a clear conscience, I try to pick the best team for every match," said the coach when asked about the decision.
"Sometimes it's good to lose so you know how other teams suffer," he added.
In his press conference following the defeat at La Rosaleda, Mourinho insisted he dropped Casillas for purely sporting reasons.
He said: "It was a technical decision taken by the coach. I analysed the situation and chose the team. You can invent what you want, but the decision was purely technical. Adán is playing better than Casillas at the moment. That's my opinion and I'm the one that makes the decisions after listening to my assistants. The way the game turned out, the goalkeeper had no influence on the result."