BARCELONA
Messi, Xavi and Puyol to spend a total of 64 years at Barcelona
The three players all agreed new contracts on Tuesday. Xavi and Puyol signed on until 2016, while Messi pened a deal which will see him remain at the club until 2018.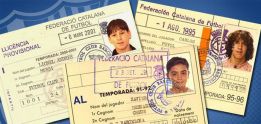 After renewing their contracts with Barcelona on Tuesday, Xavi Hernández and Carles Puyol will remain at the Catalan club until 2016, when they are 36 and 38 years of age respectively. Leo Messi, meanwhile, who has agreed to extend his current deal until 2018, will remain at Barcelona until he is at least 31 years old, meaning that the three players will complete a total of 64 years at the club, should they all see out their contracts.
The new contracts mean that by 2016, Xavi will have spent 25 years at Barcelona, having joined the club's academy 'La Masia' when he was just 12 years old. If he hangs up his boots at the end of his contract, he will join the select group of footballers that started and finished their careers in the same club, which includes Ryan Giggs, Paulo Maldini, Luis Arconada, José Ängel Iribar and Tony Adams.
Puyol, who joined Barcelona when he was 17 years old, will complete 21 years at the club come the end of his contract, while Messi, who was 13 when he rocked up at La Masia, will complete 18 years in the club if he sees out his new contract